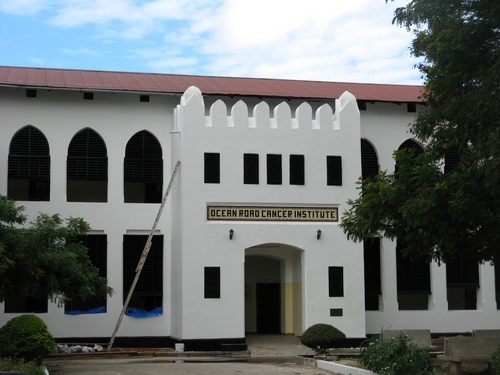 Cancer is on the rise in developing countries, where about 70 percent of all cancer deaths occur. Tanzania is no exception, with about 21 000 reported deaths from cancer in 2014 and 35 000 new cases each year.
In spite of the emergence of cancer as a serious public health issue, the country has only two cancer hospitals, the main one situated in the capital, Dar es Salaam.
Ocean Road Cancer Institute is a low-built, graceful white structure surrounded by a leafy park in Dar es Salaam's quiet government district and facing the Indian Ocean.
But once inside, the hospital takes on a different mood. Wards are crowded, with often 10-12 beds massed together in a small room, there is no air conditioning, and some of the narrow beds are occupied by two patients.
"We have 300 patients at the moment, but only 259 beds," explains Anastasia Mitema, the nurse in charge of palliative care. "…We don't just get patients from all over the country. We also have people coming in from Malawi, Zambia and Kenya."
Chronic shortages seem to be the norm in the hospital, where certain critical drugs for chemotherapy were missing at the time of the visit, and where the only two radiotherapy machines are working over-time; according to one of the radiotherapists, the hospital would need six machines to cover actual demand.
The machines also break down often, making treatment all the more difficult. On the positive side, the hospital does employ a bio-engineer to maintain and fix the machines when there are technical problems.
"But this is not enough," explains one of the radiotherapy technicians. "The machines should rest for a few hours now and then, but with 150 patients per day we can't afford to do that. Soon we'll need to buy a more robust machine as these ones are starting to give up."
Ocean Road also has diagnostic imaging services and cervical cancer screening. But regular screening and early diagnosis are rare in Tanzania, which means that by the time patients arrive at the institute their cancer is often at an advanced stage.
"Someone in a rural area may not know they have cancer until it's too late. They need to have their local clinic suspect cancer first and refer them to a district hospital to get initial testing.
If they are found to have cancer, they are sent here," Anastasia notes. "This can take weeks or months, especially if the patients have to pay for diagnosis and medication, as well as travel."
Cancer patients in Tanzania have a right to be treated for free, once they are diagnosed. Prior to diagnosis, they have to pay for screening and any necessary medication mostly out-of-pocket.
In a country that covers a vast geographical area with inadequate roads outside major centres, cancer patients face the additional challenge of having to find a means of transport to the capital and the money to pay for it.
"About 90 percent of our patients arrive when it's too late," she adds. "So all we can offer is palliative care."
According to Anastasia, morphine, the drug of preference for palliative care, is accessible and cost-effective, but it does run out frequently.
"Sometimes it takes 2-3 months for the next batch to come in," she points out. "The fact is the Medical Store Department is the main supplier of morphine to Ocean Road. And Ocean Road is the supplier for the whole country. So if we don't have morphine the other hospitals also don't have it."
The frequent stock-outs of medicines and medical devices and diagnostics, force patients to turn to private pharmacies and other suppliers.
Those who can't afford to pay out-of-pocket, simply wait for supplies to be replenished, often suffering severe pain and losing precious treatment time.
Jacqueline Benedict Mgassa, the nurse in charge of chemotherapy, waves a hand around the chemotherapy room, filled with empty beds and dry IV solution bags hanging from poles.
"There is no chemotherapy today because we are missing the main drugs." She laments the fact that when drugs run out, the staff are unable to carry out their job and provide a service to the patients. "Personally, it makes me feel bad," she adds with genuine sorrow in her eyes.
She hopes that in the future things will get better. "I want to see this hospital improved – where medications are available, all types of medicines, not only morphine. I want to see the machines running well and access to more machines. I want to see patients getting better and the number of deaths reduced."
In spite of clear gaps and shortages, Ocean Road does better than many other hospitals elsewhere in Africa, where sometimes one radiotherapy machine serves the whole population, chemotherapy is only available in private hospitals and morphine may not be available at all.
Recent reports show that numerous patients from neighboring countries come to Ocean Road for treatment. The added advantage of cancer treatment in Tanzania compared to other African countries is that it is offered for free, once diagnosis has been established.