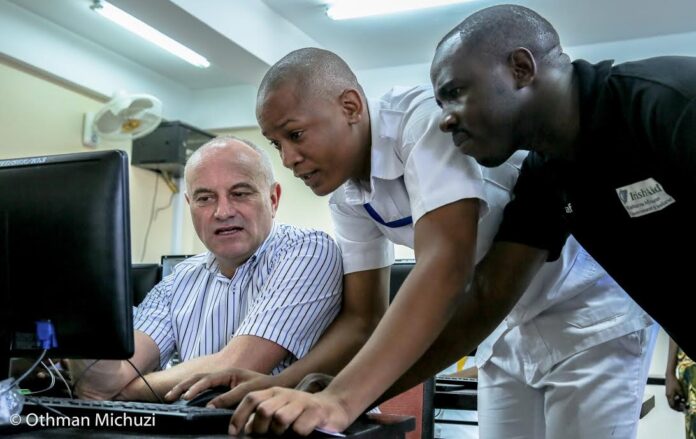 By David Pritchard
GlaxoSmithKline (GSK)
This week I have the privilege to convene with our partner, the Africa Medical Research Fund (AMREF), at the Africa Health Agenda International Conference 2017 in Nairobi.
I consider this as an important opportunity for us and our peers to discuss the future of Africa's health and share ideas on the essential supporting role companies, individuals, systems and innovation will play in achieving the Sustainable Development Goals (SDGs) to which our Governments have committed.
According to the World Health Organization (WHO), 303,000 women living in Developing Countries die every year due to complications of pregnancy and childbirth.
Almost 5.9million children die before their 5th birthday and approximately, 2 million people are infected with HIV and more than 214million new malaria cases are reported each year. Plus, we have 1.7 billion people needing treatment for neglected tropical diseases.
The task is immense and will only be possible if everyone in the health ecosystem collaborates and works in partnership to tackle global health challenges.
As one company, GSK, we can't do it on our own. And so, we are working with Governments, NGOs, academic research institutes and other businesses to reach all those underserved patients who need our medicines and vaccines.
Sharing knowledge within the scientific community is vital to developing new medicines and treatments. Millions of people in Africa are expected to die from Non-Communicable Diseases, such as heart disease and cancer plus chronic conditions such as Asthma by 2020.
We as an industry need to enable African scientists to work together, in collaboration to undertake the research necessary to prevent, treat and cure.
For example, we recently launched our Non-Communicable Disease Open Lab, where research scientists from across Africa are supported within a professional community environment.
Throughout history, scientific breakthroughs have often occurred purely by accident. When we created a mouth wash close to four decades ago, never did we imagine that in it lay an ingredient that could save babies lives in 2017.
The UN has described the mouthwash antiseptic ingredient, chlorhexidine, as an overlooked 'life-saving commodity' that, if more widely accessed and properly used for umbilical cord care, could potentially save the lives of 422,000 babies over 5 years.
A newly-cut umbilical cord can easily become infected, especially where more births take place at home. The lesson we learnt here is that, in order to succeed in a challenging world full of barriers, we need to look beyond what we see.
It took a bright idea from one of our scientists to turn an ingredient in our mouthwash into what is now a life-saving medicine applied to the umbilical cord of babies to reduce the risk of infection.
Access to the right healthcare is also essential, and although Africa has the world's largest disease burden, it has the lowest ratio of health workers per population.
Our approach to this issue has been to support community health workers through a knowledge transfer and training programme that has since 2009 trained over 43,000 health workers and reached 17.5 million people across 39 countries.
But there is so much more that needs to be done; estimates suggest that by 2030, Africa's shortage of healthcare workers will reach 6million.
As a continent we must multiply our passionate determination and innovation towards finding solutions. Through mutual aim, we are working closely together, sharing information and supporting our scientific research community plus leveraging the potential of frontline healthcare workers across Africa.
And, with such collaboration, we shall achieve our goal. Put simply, the public sector is well placed to articulate the needs and priorities of its citizens and create an environment where these can be met.
The social sector is well placed to support those most in need, providing them a voice as well as interventions, and the private sector, in an enabled and welcoming environment is well placed to provide sustainable and scaled solutions.
A partnership approach, where there are no seniors and no juniors, just the acceptance and respect of each partner's expertise, combined with the ability to constructively challenge each other will be critical to meeting the objectives of the SDGs.
That's why forums such as the Africa Health Agenda International Conference, where we come to discuss and work together, are so important.
Pritchard is the Vice President of Africa and Developing Countries, GSK