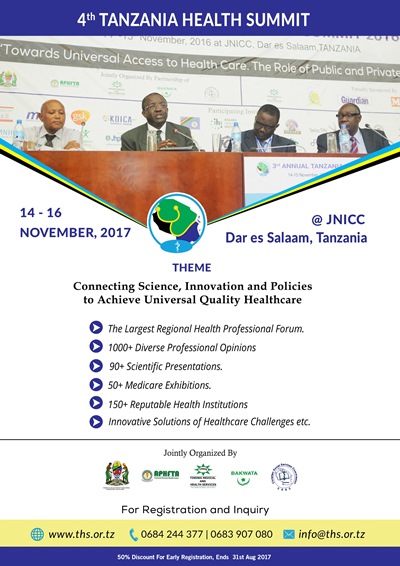 In less than two weeks, healthcare investors and providers, the government, hospitals, distributors as well as health researchers and Non-Governmental Organizations (NGOs) are expected to convene in Tanzania's commercial capital, Dar es Salaam, for a three day high level summit on healthcare—the Tanzania Health Summit(THS) of 2017.
THS, which was first held in the country in 2014, now enters its fourth year. This year's event, inspired by the theme: "Connecting Science Innovation and Policies to achieve Universal Quality Healthcare," is scheduled to take place on the 14th to 16th of November.
It is expected to expose healthcare stakeholders to investment opportunities and provide a platform for high-level discussions and meetings. There will be health products exhibitions and research projects presentations. During the event, stakeholders will also have a chance to showcase innovative health projects.
Read about the first THS in allAfrica.com: Tanzania Health Summit 2014 Key to Attaining Health Goals.
Since its inception, THS has been attended by distinguished delegates from the country and beyond. The upcoming event, to be held at the Julius Nyerere International Convention Centre in the city, will be branded with high-level discussions on the future trends and opportunities in Tanzanian's healthcare industry.
Registration process is ongoing, click HERE to register.