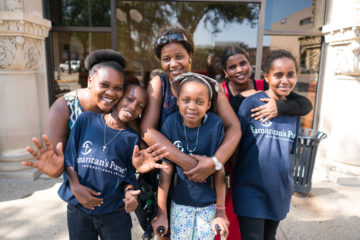 The Samaritan's Purse DC-8 heads back to East Africa today as three Tanzanian children joyfully return home after receiving critically needed medical care in Sioux City, Iowa.
The threesome were the only survivors of a horrific bus crash in May, and that month we used the same aircraft to fly them from Africa to the United States, along with their mothers, a Tanzanian doctor, and nurse.
Sadhia, Doreen, and Wilson are doing wonderfully well now after receiving treatment for a combined 17 serious fractures and undergoing intensive rehabilitation over the past several months.
"I thank God for the amazing recovery of these children and am extremely grateful for the excellent care they received at Mercy Medical Center in Iowa. Just as we helped bring the children here, we are grateful to now be able to get them home," said Franklin Graham, president of Samaritan's Purse.
Our DC-8 took off around 9 this morning and is expected to arrive Friday morning at the Kilimanjaro International Airport in Arusha, Tanzania. A festive program welcoming home the "three miracle children," as they're now known, is planned at the airport.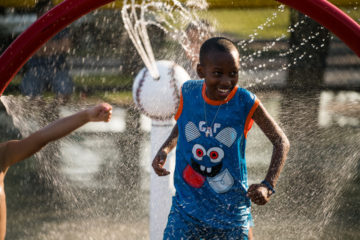 The children will return to their homeland accompanied by supplies for Lucky Vincent School, where they attend, as well as medical equipment and supplies from World Medical Mission, the medical arm of Samaritan's Purse. That shipment will include anesthesia machines, infant incubators, operating tables, and autoclaves—all designed to help improve the country's healthcare capacity.
"The provision of these supplies will not only serve as a basis of partnership between Samaritan's Purse and three hospitals in need—Mount Mero Regional Hospital, Pohama Hospital, and Arusha Lutheran Medical Center—but also as a bridge of opportunity to share the love of the Great Physician," said Dr. Lance Plyler, medical director of World Medical Mission.
Urgent Intervention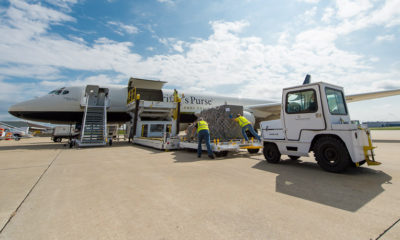 Sadhia, Doreen, and Wilson survived a May 6 bus crash in which 32 of their primary school classmates and three adults—two teachers and the driver—were killed. Their bus plunged off a slick gravel road into a steep ravine in remote northern Tanzania. Three missionaries serving with Siouxland Tanzania Educational Medical Ministries (STEMM) happened upon the scene moments after it occurred. They found the three children and helped put them into arriving ambulances, which rushed them to a local hospital.
But it became apparent to doctors and staff there that the children needed a level of care that their hospital could not provide. "The extent of their injuries, their age, and the limited resources and equipment at our hospital made it clear that the kids needed to go to the United States to receive the best treatment," recalled Dr. Elias Mashala, a Tanzanian orthopedic surgeon at Mount Mero Regional Referral Hospital, who accompanied the children to Sioux City.
Yet how would they get to a country so far away? Rep. Steve King from Iowa's 4th congressional district—a good friend of Dr. Steve Meyer, a co-founder of STEMM and an orthopedic surgeon at Mercy Medical Center—urgently contacted Franklin Graham. He then called Dr. Meyer and offered his assistance, dispatching our DC-8 aircraft.
Dr. Steven Joyce, the pediatrician who helped take care of Sadhia, Doreen, and Wilson during their hospitalization in Iowa, was quite direct about the vital role Samaritan's Purse played in their survival.
"Without Samaritan's Purse getting these kids halfway around the world to American medical care, they would not have gotten here, plain and simple," Dr. Joyce said. "The cost of transporting them was simply too high to be able to get them here. I think Wilson would have survived in Tanzania, but Sadhia and Doreen I don't think would have."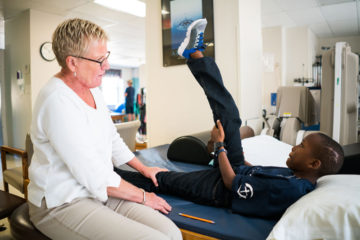 Sadhia is so thankful to Samaritan's Purse for all they did for her, she's already dreaming about becoming a pilot like those who flew her to the U.S.—and now back to her homeland.
"I was in bad pain after the accident, and they took me from Tanzania to America because they are kind and good people," the 13-year-old said. "I want to help people the way they helped me."
Doreen's mother, Grace, voiced her gratitude: "I will pray for all the people who took my problems as their own and took care of my daughter. I thank Samaritan's Purse and will pray that God will bless them and that all the missions they're doing will be successful."
Fantastic Recovery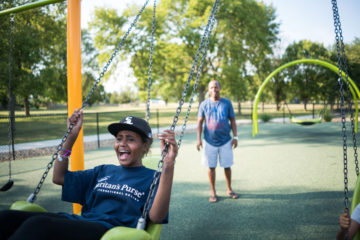 The children's condition today is a far cry from when they arrived back in the spring. Dr. Joyce pointed out that each child had several fractures—some even had spine fractures—and, on top of those serious medical issues, they were initially shy, scared, and likely suffering from post-traumatic stress as well as depression.
And now? "After receiving lots of intensive medical treatments, surgical treatments, orthopedic treatments, and post-operative physical, occupational, and speech therapy, they are all three doing magnificently well," Dr. Joyce said. "In addition, you see the kids at the Ronald McDonald House, where they've been staying, and they're laughing, joking, smiling, playing. They've come out of their shell."
They cherished hanging out and studying the Bible with other middle school students who attend Sunnybrook Community Church in Sioux City. They enjoyed their visit to the city zoo and frolicking at the local splash pad, including getting soaked two days before they left.
The 12-year-old Wilson put it this way: "Before I was feeling maybe 30 percent, but now I'm feeling 100 percent better," he said, with an ear-to-ear grin glistening in the sun. "They were so polite and treated us well."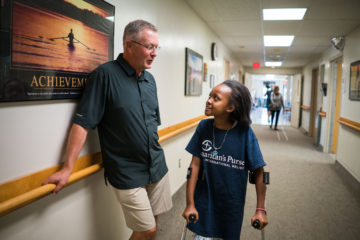 Doreen talks with Kevin Negaard, executive director of Sunnybrook Church. Kevin was one of three STEMM missionaries at the accident scene in Tanzania.
Doreen, 12, was the most critically injured of the three. Dr. Meyer explained that Doreen was completely paralyzed with the "exception of one toe flickering two-and-a-half months ago."
"For her now to actually be walking around in her own power is unheard of with the type of fractures she had in her back," he noted. "Each of the kids has had a recovery far beyond anyone's expectation. It defies human logic or medical experience."
Following the accident, Doreen wondered if God had abandoned her. "But my mother told me that wasn't true, but that God had done this for a purpose," she said. "So, I thank God for everything. I always thank Him for everything."
Kevin Negaard, executive director of Sunnybrook Church and one of the three STEMM missionaries at the accident scene in Tanzania, was also involved with the children during their stay in Iowa. In reflection, he said he has witnessed God's presence and hand at each step of the way. "To see the kids doing so well, returning to their country healthy, full of life, and energy, we serve a miraculous God!"
Source:www.samaritanspurse.org