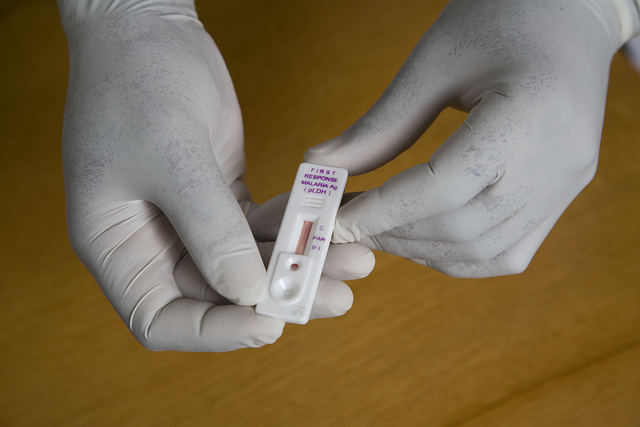 Whereas malaria Rapid Diagnostic Tests (mRDTs) help healthcare workers diagnose malaria, there is still no such simple point-of-care diagnostics for other common illnesses that cause fever, says Heidi Hopkins, an associate professor of malaria and diagnostics at the UK-based London School of Hygiene and Tropical Medicine.
Prof Hopkins was commenting on a study carried out in Tanzania and four other African countries — Cameroon, Ghana, Nigeria and Uganda — and Afghanistan, where researchers found that even patients who were not confirmed by mRDTs as having malaria, were prescribed artemisinin-based combination therapies (ACTs) and those who had malaria were denied the ACTs.
In an interview with Sci.Dev.net, Hopkins explained that; because there are other common illnesses that cause fever, it means that when a malaria test is negative, healthcare workers are not sure what to do.
The study, titled: "The Impact of Introducing Malaria Rapid Diagnostic Tests on Fever Case Management: A Synthesis of Ten Studies from the ACT Consortium," was published in the American Journal of Tropical Medicine and Hygiene this month (7 August).
This was an analysis of the harmonized data from ten ACT Consortium studies conducted between 2007 and 2013.
Read: Malaria rapid diagnostic tests fuel unintended outcomes
In 2010, the World Health Organization (WHO) passed a policy that malaria cases should be confirmed before treatment.
This has led to increased use of mRDTs on a large scale, according to researchers from countries including Afghanistan, Ghana, Nigeria, Sweden, Tanzania, Uganda and the United Kingdom.
But, "Unnecessary use of antimalarials and antibiotics drives malaria resistance and there is a need to ensure that the benefits of introducing mRDTs does not come at the cost of increasing antibiotic use," says Hopkins who was among the researchers in last month's study.
This study, according to Prof Hopkins, is the largest and most comprehensive analysis that directly compares treatment practices in settings with and without mRDTs.
Other researchers say prescriptions are an interesting and significant finding although not totally unexpected. This, they say, is because many countries in Sub-Saharan Africa don't have the laboratory capacity to investigate other causes of fever in those who are mRDT negative, which could be due to viral or bacterial infection.