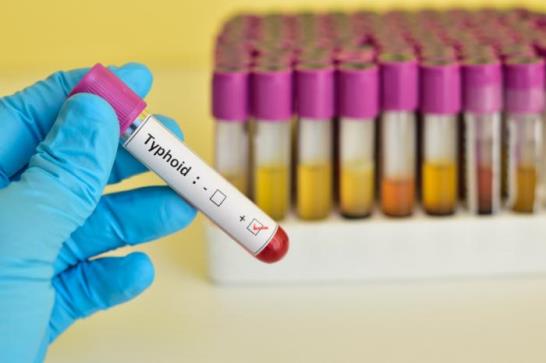 A new next-generation conjugate vaccine against typhoid has been proven to be safe, longer-lasting, effective and scientists at Oxford University say it could protect adults and children against the disease.
According to a new study published in The Lancet Journal, the TCV would have a significant impact on the incidence of typhoid if rolled out in countries where the disease is prevalent.
Typhoid is a bacterial disease that is responsible for around 20 million new infections and 200,000 deaths each year, mainly in South and South-East Asia and Africa.
The annual mortality caused by Typhoid is 3.5 per 100,000 people in Tanzania, according to data from Global Health Statistics.
Young children typically carry the heaviest disease burden – a recent study found that in sub-Saharan Africa, typhoid cases were more common in children aged 2-5 years.
Read: Incidence of invasive salmonella disease in sub-Saharan Africa: a multicentre population-based surveillance study
The Indian Pharmaceutical company Bharat Biotech International has submitted the vaccine to the World Health Organization (WHO) for pre-qualification. UNICEF would later procure it for use in low-resource settings.
Typhoid is associated with inadequate sanitation and contaminated drinking water, and common symptoms include fever, stomach pain, headache and constipation or diarrhea.
According to the Professor of Paediatric Infection and Immunity at the University of Oxford, Andrew Pollard, the new vaccine could be a game-changer in tackling the disease among poor people.
'For the first time, we will be able to offer protection to children under two years of age, which will enable us to stem the tide of the disease in the countries where it claims the most lives," he said.
'If we are going to make serious headway in tackling typhoid, we need to dramatically reduce the number of people suffering from and carrying the disease globally, which will in turn lead to fewer people being at risk of encountering the infection," he suggested.
'This is a disease that only affects humans, and I believe that it will be possible for us to eradicate one day. However, we're currently losing ground as overuse of antibiotics is leading to the emergence of new resistant strains, which are spreading rapidly,'' he added.
The researchers tested the vaccine at Oxford University using a controlled human infection model, which involved asking around 100 participants, many of whom were university students, to consume a drink containing the bacteria.
Dr Charlie Weller, Head of Vaccines at Wellcome Trust said the models used in the study could give an indication that a vaccine is safe and effective far more quickly than would be possible through large-scale population trials.
For Dr Anita Zaidi, Director of the Enteric and Diarrheal Diseases team at the Bill & Melinda Gates Foundation, typhoid is a stain in global health progress and must be combated now.
She said, 'Many people think typhoid is a disease of the past, yet it still sickens millions of people annually, particularly children. This is a stain on global health progress when advances have been made against many other diseases.
"This vaccine would be a critical tool, alongside water and sanitation efforts, to help make real headway against this deadly disease and consign it to the history books where it belongs.'
The two globally-available typhoid vaccines (Ty21a and Vi-PS) are typically only offered to travelers from developed countries, despite the disease burden falling heavily on developing countries.
Ty21a cannot be used for children under five years, while Vi-PS can't be used for children under two.
A new Vi-tetanus toxoid conjugate vaccine (Vi-TT) can change this – it can be used for infants, is expected to last longer and be more effective than existing vaccines, and could be rolled out in affected countries.
WHO's Strategic Advisory Group of Experts (SAGE) is meeting in October 2017 to make recommendations on the global use of the Vi-TT vaccine. To date the vaccine has been primarily used in the private sector in India.
If the WHO recommends the Vi-TT vaccine for licensure, this could enable countries to protect younger children, who bear a significant proportion of disease burden.
For example, the Vi-TT vaccine could be included in countries' routine immunization schedule for infants.