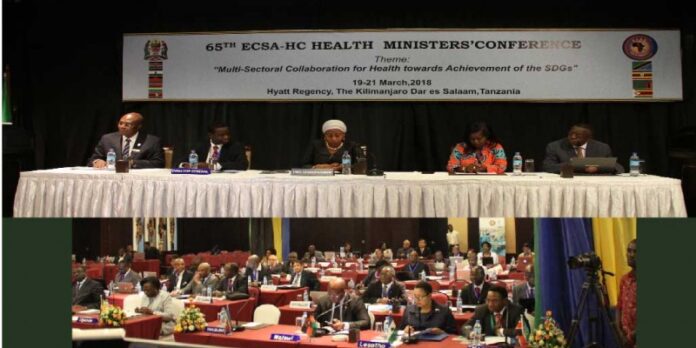 A three-day-meeting of the East, Central and Southern African Health Community (ECSA) held in Dar es Salaam ended today March 12 with delegates committing to implement seven resolutions as part of the wider plans to attain Sustainable Development Goals(SDGs).
It was the 65th Conference of Eastern, Central and Southern Africa Health Community (ECSA-HC) which includes 9 countries Kenya, Uganda, Malawi, Zambia, Lesotho, Zimbabwe, Swaziland, Mauritius and Tanzania.
Theme for the meeting was "Multi-sectoiral collaboration for Health towards achieving the SDGs."
It aimed at discussing various challenges facing the health sector in the countries of the East, Central and Southern Africa region.
Speaking during the meeting, Ms Ummy Mwalimu, Tanzania's health minister said one of the key resolutions was on mitigating impact of emerging and re-emerging diseases such as Dengue Fever and other mosquito-borne diseases.
She said Non-communicable Diseases (NCDs) should also be well handled since they can be prevented.
She said, "From our research, diseases such as diabetes and cancer are caused by the excessive drinking of alcohol, use of cigarettes and lack of enough exercises."
Ms Mwalimu doubles as the chairperson of the union of health ministers of the countries. She said that they had agreed on stepping up health improvement to women and children.
According to her, another resolution is on improving the provision of health care services to pregnant women and that Tanzania has been advised to recognize the College of Surgeons of East, Central and Southern Africa (COSECSA).
Countries have borders but diseases do not have borders; thus our unity will help in eliminating and providing solutions to emerging and re-emerging diseases such as Ebola and Dengue.
"Strengthening the governance and leadership in the health sector is also one of the resolutions, in which all sectors should engage to improve health in early stages of design of policies, programs and services," said Ummy.