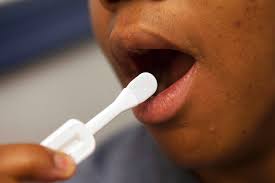 The government of Tanzania is contemplating about initiating self-testing programs for HIV in an effort to curtail transmission of the virus, says the Deputy Minister for Health, Community Development, Gender, Elderly and Children, Dr Faustine Ndugulile.
"To cut down rates of HIV transmission, it's time now we start self-testing measures. Reports show not many people go for HIV testing at various centres. Especially the men. Even when they go, they take long to start taking ARVs,'' said Dr Ndugulile, who has also chaired the Inter-Parliamentary Union Advisory Group on HIV and AIDS and Maternal, Newborn and Child Health.
An estimated 1.4 million people are living with HIV and Aids in Tanzania but only 52 per cent of them are aware of their condition, data from Tanzania Commission for Aids (Tacaids) show.
HIV self-testing means people can use oral fluid or blood- finger-pricks to discover their status in a private and convenient setting, says the World Health Organization (WHO).
In 2016, the WHO released new guidelines on HIV self-testing to improve access to and uptake of HIV diagnosis.
In June 2017, Kenya became the latest African country to have introduced HIV self-testing kits in a bid to get more people to know their status and seek treatment.
In an opinion piece published in Kenya's Daily Newspaper, Nation, the Chairman of the Public Health Society of Kenya, Dr Cherutich argued that the introduction of HIV self-testing in Kenya was going to boost the fight against HIV and Aids.
"When this kind of test was first proposed in 2007, the major concern was whether an ordinary Kenyan would have the competence to conduct a HIV test and interpret it, and whether they would seek medical attention if they turned out to be HIV-positive,'' he wrote.
"These doubts have now been put to rest with convincing evidence that is not only relatively simple, but is also acceptable among healthcare providers and patients. The issue of potential abuse by individuals who might force their sex partners to take the test without their consent was also raised,'' he added.
"In addition, there was the fear that self-testing might encourage unsafe sex leading to an increase in unplanned pregnancies, sexually transmitted infections and social delinquency. These issues still linger and we have to establish mechanisms to ensure that this new approach does more good than harm. Nevertheless, self-testing comes with exciting opportunities,'' he suggested.
How it is expected to be implemented in Tanzania
Dr Ndugulile said when the programs are implemented; the focus would be on using oral fluid (saliva) for HIV testing. "This is very quick and convenient,'' he said. He spoke to the press in the company of the US Ambassador to Tanzania, Ms Inmi Patterson who made a tour of the Mnazi Mmoja Hospital in Dar es Salaam.
Ms Inmi Patterson said the United States, has committed Sh1.17 trillion through the President's Emergency Plan for AIDS Relief (PEPFAR) to combat HIV transmission in Tanzania in an effort to bring the disease under control by September 2019.
According to UNAIDS, the adult HIV prevalence in Tanzania is currently estimated at 4.7 percent. The targets of the country is that by 2020, over 90 percent of people living with the disease should be aware of their HIV status, 90 percent of those who have tested positive must be put on continuous HIV treatment, and 90 percent of those on treatment must reach viral suppression.
According to WHO guidelines, results of HIV self-testing are ready within 20 minutes or less. Those with positive results are advised to seek confirmatory tests at health clinics. WHO recommends they receive information and links to counseling as well as rapid referral to prevention, treatment and care services.
Why self-testing now?
HIV self-testing is a way to reach more people with undiagnosed HIV and represents a step forward to empower individuals, diagnose people earlier before they become sick, bring services closer to where people live, and create demand for HIV testing. This is particularly important for those people facing barriers to accessing existing services.
The WHO issued a progress report showing that lack of an HIV diagnosis is a major obstacle to implementing the Organization's recommendation that everyone with HIV should be offered antiretroviral therapy (ART).