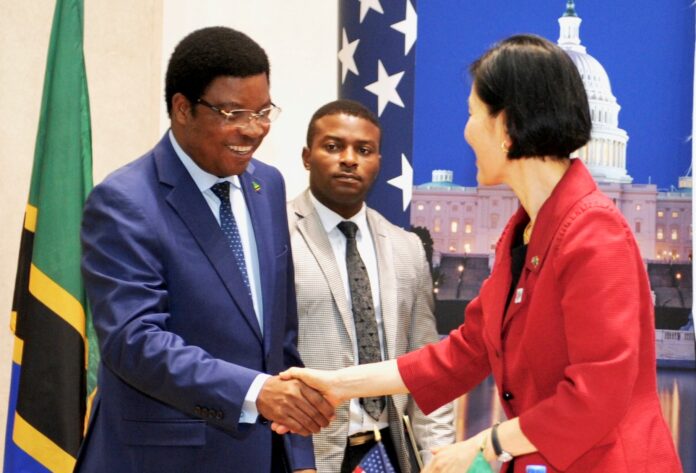 By Dr Chris Peterson,
Medico PRESS
Dar es Salaam. On Wednesday May 31, Tanzania and the United States teamed up in Dar es Salaam to mark 15 years of partnership in fighting HIV and AIDS, in honour of the gains made through the U.S. President's Emergency Plan for AIDS Relief (PEPFAR).
This came at a time when over 1.4 million Tanzanians are living with HIV, according to the East African country's commission for AIDS (Tacaids).
U.S and Tanzania officials marked the 15-year anniversary with grand plans to ensure every Tanzanian gets tested for HIV. In Tanzania, only 52 percent of the people are aware of their condition, government data show.
The disease, according to Tacaids, has mostly affected the youth aged between 14 and 25 years.
The Acting Ambassador to Tanzania, Inmi Patterson, said PEPFAR has invested heavily in a campaign to prevent the spread of the virus and provide lifesaving treatment to more than one million Tanzanians living with HIV.
During this campaign, she said, "we will work with you all and with people living with HIV across Tanzania to tell positive stories: stories of people living with HIV who were once weak and sick but who are now strong and healthy,'' she said and went on…"
"I encourage Tanzanians to get tested and learn their health status," she urged.
Since PEPFAR was inaugurated by President George W. Bush in 2003, the United States Government has invested more than $4.5 billion (about Sh10.26 trillion) to stop the transmission of HIV in Tanzania.
Ms Patterson said, "Before PEPFAR began, an HIV diagnosis was a death sentence in Tanzania and across southern and eastern Africa."
"In the 1990s and early 2000s, few people got tested for HIV; and only about 1,500 people in Tanzania were able to access treatment,'' she recalled.
Tanzania's health minister, Ummy Mwalimu, said, during the event that through the U.S.-funded program, AIDS related deaths in the country decreased by 70 per cent, from 110,000 in 2003 to 33,000 in 2016.
Later in parliament she revealed that Tanzania was in the process to review the laws so that each individual can test himself or herself for HIV.
"This time, we want to allow people to use testing items that can detect HIV in their saliva. Through this, one can then go to a health facility and confirm the results and possibly be put on ARVs,' she said in parliament.
The country's Prime Minister, Kassim Majaliwa said he would officiate a national HIV-testing campaign in the country's capital Dodoma, and the focus would be on sensitizing more men to get an HIV test.
"We have a problem with men when it comes to HIV testing here in our country. Quite often, when wives tell their husbands to go for an HIV test, there is usually some dilly dallying. It's now time to change that,'' said Mr Majaliwa.
The US government, trough PEPFAR, is now supporting 950,000 Tanzanians on lifesaving medication (antiretroviral treatment), with a goal of reaching 1 million Tanzanians on lifesaving treatment by end of 2018.