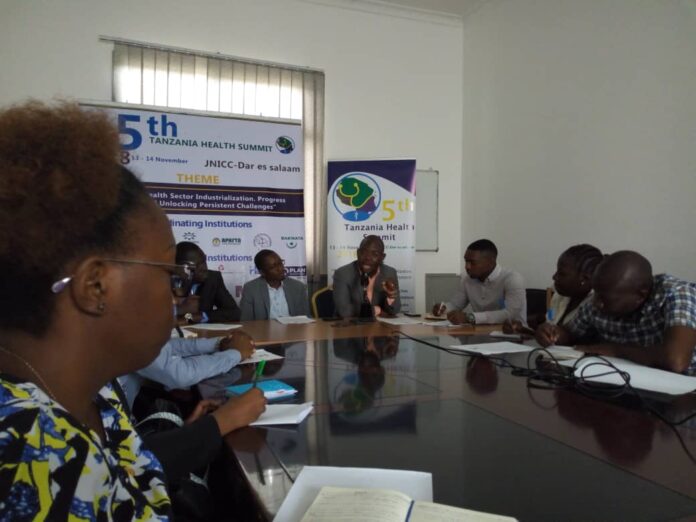 Dar es Salaam. Health sector industrialization is set to be high on the agenda this year as hundreds of health stakeholders and the government convene for the 5th Tanzania Health Summit (THS) in Dar es Salaam.
For many years now, the health sector in Tanzania has been going through industrialization. However, the stage hadn't been set yet to evaluate how the process can better be achieved, the challenges it's currently facing and how to mitigate risks associated.
THS, which is due to take place on November 13&14th 2018 will set a platform that attracts over 1000 stakeholders and the government of the United Republic of Tanzania who will set the right direction on how quality healthcare can be achieved in the era of industrialization.
Inspired by the theme: Tanzania Health Sector Industrialization. Progress Review and Unlocking Persistent Challenges, this year's summit will take place at the Julius Nyerere International Convention Centre (JNICC) and is expected to be attended by distinguished delegates from the country and beyond.
The President of Tanzania Health Summit, Dr Omary Chillo, said, "Tanzania's Development Vision projects that the country will be transformed into middle income economy by 2025, this is not far from now. Since we already have political commitment, as exemplified by President John Magufuli's determination, we need now to set strategies to get there. That's why we need to set the pace in healthcare."
"Take this example, the pharmaceutical industry has been poorly progressing since 1962 when healthcare industrialisation per se began in Tanzania. By now, it does not meet the national demand. What we have achieved so far in reviving this industry? How do we move from here? That's what this year's summit is all about,'' added Dr Chillo.
Investors in health, hospitals, distributors, healthcare researchers as well as NGOs are expected to take part in this major event which now enters its 5th year; after registering achievements in various public health sectors. THS was first held in the country in 2014.
The summit will be branded by high-level discussions on the future trends and opportunities in Tanzanian's healthcare industry, including scientific presentations, health symposiums and exhibitions.
This is expected to expose healthcare stakeholders to investment opportunities through giving them a chance to showcase innovative health projects.
One of the major stakeholders, Dr Ntuli A. Kapologwe, the Director of Health, Social Welfare & Nutrition Services (DHSWNS) President's Office-RALG, said, "It is very important that; all actors in the Tanzania's health industry should take it seriously the health industrialization agenda so that they can tap into opportunities which emanates from it. This will make the Tanzanian health sector strong and vibrant and will create enabling environment towards becoming medical tourism hub in the region – No one will make this happen except you and me."
For his part, the Chief Executive Officer of the Association of Private Health Facilities of Tanzania (APHTA), Dr Samwel Ogillo said, "The Tanzania Health Summit has over the years proved to be the national platform that brings together healthcare players from both the public and private sector, from Tanzanian and beyond, engaging them in serious discussion on how to move the sector to the next desired level. This year's theme is in line with the Tanzanian Vision 2025, focusing on healthcare industrialization, a major component towards achievement of the Sustainable Development Goals."
How the healthcare industry is changing in Tanzania
Technology is advancing and there an inevitable change in the role of healthcare workers. The changes hold the promise of a more efficient and effective health system but there are issues of concern to address such as, physicians' loss of autonomy, disruption of doctor-patient relationship and the potential erosion of professional values.
Licensing procedures
The Chairman of Tanzania Health Summit, Dr Chakou Halfani, said,"As you may know, the government has done a lot to rectify challenges associated with industrialization, including but not limited to fast-tracking licensing and registration process, introduction of single processing center, identification and provision of adequate lands and so on because of which we are witnessing rapid growth of the health sector industrialization agenda."
"But you may agree with me that, there are still some pending matters that once sorted, we will be on track with what we want to achieve as the country. Here-comes THS 2018, as we are going to count and celebrate what we have achieved so far, as well, we are going to critically discuss what still holds us back, so that jointly we can set common solutions and move together. It's my belief that through public private dialogue, we will move far and achieve what everyone of us wishes to."
What the outcomes of summit mean to the country
Recommendations from the summit will be included in the working documents and participants will discuss key actions to be carried out individually and/or jointly to influence the country's industrialization agenda and ensuring that activities are align to achieve the goal.