Monitoring, screening and administering preventive treatment to individuals who have been in contact with patients newly diagnosed with leprosy, helps curtail transmission of the bacterial infection, potentially reducing the global disease burden, a study says.
Researchers say they have evaluated the feasibility and efficiency of the treatment approach among people who were in contact with newly diagnosed leprosy patients, such as household members, neighbors or co-workers in Brazil, India, Indonesia, Myanmar, Nepal, Sri Lanka, and Tanzania.
During the study, researchers traced 170,000 people who had been in contact with individuals newly diagnosed with leprosy and treated 150,000 of them with a single dose of rifampicin to prevent disease. The use of post-exposure prophylaxis is expected to interrupt transmission of the bacteria causing leprosy.
If left untreated, leprosy can cause progressive and permanent damage to the skin, nerves, limbs, and eyes, leading to stigma and further spread of the disease that sees over 200,000 newly diagnosed cases globally every year.
The researchers are optimistic that if the new approach is scaled up globally, near-elimination of leprosy could become a reality in a single generation.
The five-year study under the Leprosy Post-Exposure Prophylaxis (LPEP) program was initiated by Novartis Foundation with the leprosy control programs of the seven countries. Results were published on October 29(2020) in the Lancet Global Health.
"With this new approach, there is a much lower chance people with leprosy can pass on disease to neighbors and friends, preventing avoidable disability and stigma, in turn helping us to progress towards zero leprosy,'' says Jan van Berkel, President of the International Federation of Anti-Leprosy Associations (ILEP) in his comments on the findings.
The prevalence rates of leprosy in Africa have been reported to have generally dropped in recent years. By the year 2010, the continent had recorded 33 690 cases, down from from 57, 516 cases in 2000, data from World Health Organisation (WHO) show.
In Tanzania, the only African country that participated in the study, the number of registered leprosy cases on multidrug therapy has gradually declined from nearly 3,500 cases in 2006 to 1,535 in 2018, as per data from the National TB and Leprosy Programme (NTLP).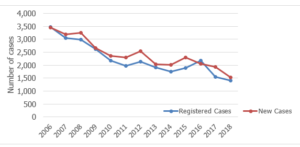 […] we were the only [African country that participated in the study] because we were readily available to try new innovations…,'' says Dr Deusdedit Kamara the Leprosy and TB care and Prevention Coordinator from NTLP in Tanzania who co-authored the study.
 "The national trends on incidences and prevalence plus programme data management system were the added advantage for our participation,'' Kamara tells MedicoPRESS, adding: "… today we have many places where no new cases have been notified (except some immigrants) for some years."
"Our research shows that contact-tracing and prophylactic treatment is generally well accepted by patients, their contacts, and health-care workers,'' says the lead author of the paper Jan Hendrik Richardus, a professor at Erasmus MC, University Medical Center Rotterdam.
"The next step is to ensure that prophylactic treatment is rolled out in all settings where contact tracing and screening have been established,'' says Richardus in a press release accompanying the study.
"The next step is to ensure that prophylactic treatment is rolled out in all settings where contact tracing and screening have been established,' says Richardus.
The head of the Novartis Foundation, Dr Ann Aerts says the results have raised the hopes of a world without leprosy.
"By using contact-tracing and prophylactic treatment in combination with widespread availability of multi-drug therapy and other tools, we can cover the last mile in the elimination of this disease."
Over two years ago, the World Health Organization (WHO) recommended the intervention in their 2018 Guidelines for the Diagnosis, Treatment and Prevention of Leprosy after it was found out it could reduce the risk of leprosy in contacts of leprosy patients by nearly 60%.
Access to medicines is only half of the challenge in eliminating leprosy: the disease often occurs in hard-to-reach communities, and diagnosis is frequently delayed because patients fear discrimination and social stigma.
Reference:
Jan Hendrik Richardus et al: Leprosy post-exposure prophylaxis with single-dose rifampicin (LPEP): an international feasibility programme. Lancet Global Health, October 29, 2020.