For many years in Tanzania, eggs have been touted as some of the most nutritious foods, however, according to Professor Japhet Killewo, a renowned epidemiologist, eating eggs must not go unchecked. He uses this scenario and many others in the livestock industry to explain the animal-human health interactions and what it will take for the country to curb the natural and man-made disasters, epidemics and pandemics.
These days, he says, "eggs harbor antibiotics and people consume them unknowingly. Poultry keepers are increasingly using the antibiotics to promote faster growth of their chicken and this has huge implications on human health due to antibiotic resistance."
Prof Killewo's revelation is documented in his latest booklet titled:  Wicked Health Problems and the One Health Approach in Tanzania; which he launched on Thursday October 31 during a Professorial Public Lecture at Muhimbili University of Health and Allied Sciences (Muhas).
On Sunday, November 3, the world marks the fourth annual One Health Day, as part of a global campaign that brings attention to the need for a One Health approach in addressing shared health threats at the human-animal-environment interface.
As stakeholders in Tanzania get ready to mark the global event, Prof Killewo is taking the lead to address antibiotic resistance as one of the country's burden of public health challenges.
What are wicked health problems? Read: Wicked problems and a 'wicked' solution
Prof Killewo uses an example of egg consumption to explain a wider subject on 'Wicked health problems' meaning the most challenging and complex health snags of our time; many of which threaten human health. Climate change, obesity, emerging and re-emerging pandemics such as Ebola; are some of the known wicked problems.
Given the risk of not acting on the challenges, Prof Killewo details what it will take to create the 'tipping point' needed for effective action on the growing threat of antibiotic resistance in Tanzania.
In the 50-page booklet, he explains how antibiotic resistance is becoming difficult to tackle—or rather wicked—because of the many players in the industry, such as the poultry keepers who are profiting from the public health challenge.
What are the implications?
"Common diseases, such as cholera and tuberculosis, are increasingly becoming difficult to treat with antibiotics, yet we are likely to see more of these epidemics in the future because the drugs that should have treated them are being rendered ineffective," he warns.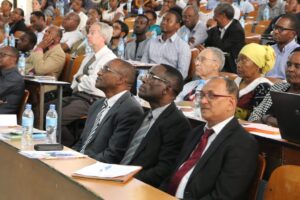 Killewo, the focal person for One Health Central and Eastern Africa (OHCEA), is particularly concerned that advocacy messages aimed at campaigning against antibiotic resistance in Tanzania have left out livestock keepers.
'When patients are sick, they are encouraged to have a prescription form issued by a medic; for them to access antibiotics from pharmacies. What about livestock keepers? Are they aware that they should have a prescription if they want to access antibiotics for their sick animals?" queries the Prof.
"I am aware of livestock keepers who purchase antibiotics from agricultural shops to treat their sick animals. Unfortunately, when the sick animals are given these antibiotics, humans suffer indirectly. At this point, resistance begins changing from being as bad as it is now to being a "wicked" health problem," he says.
Read: One Health: Why Tanzanian scientists must unite
"At this point, we need to work as one. It's about time policymakers and multisector players worked in unity to overcome barriers which are deliberately exploiting the complex or wicked nature of the problem,'' he tells Medico PRESS in an interview.
Livestock keepers forgotten
"It is obvious that livestock keepers do not follow the rules or regulations which require them to do curling of animals or discarding animal products during withdrawal periods. They fear that the decision may affect their economic livelihoods,'' he says.
Tanzanians are increasingly consuming animal and plant products which have been contaminated with antimicrobials either intentionally through treatment or accidentally through feeds and other contaminants.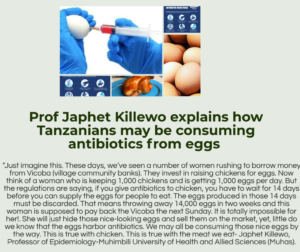 "The chickens, eggs, meat and milk products we take are often having small doses of antimicrobials which inevitably cause resistance in humans,'' he explains, saying the situation is frightening because most people consume the animal products with little or no knowledge of its health implications.
He believes that the problem could have been tackled if pharmaceutical companies make new antibiotics, but there are challenges ahead.
"…due to economic and regulatory obstacles, 15 out of the 18 largest pharmaceutical companies have abandoned production of antibiotics,'' he says, adding: "Antibiotic research conducted in academia has been scaled back as a result of funding cuts due to the economic crisis."
"Antibiotic development is no longer considered to be an economically wise investment for the pharmaceutical industry because antibiotics are used for relatively short periods and are often curative. Antibiotics are seen as not being profitable drugs such as those that treat chronic conditions like diabetes, psychiatric disorders or asthma…"
In Tanzania, through the One Health Coordination Desk, supported under the National Action Plan on Antimicrobial Resistance 2017- 2022, the government is seeking to enhance the prevention, detection and response to outbreaks and embracing coordinated action and information sharing to prevent, minimize and respond to outbreaks to save lives.
For Prof Killewo, the risk of not taking action to solve a wicked problem is much higher than using a solution that is totally wrong. Unfortunately, he says, policymakers have great difficulty, responding effectively to complex or 'wicked' problems.
"Why not act now at affordable cost to address wicked problems rather than wait for a future catastrophe?"