Streets don't give rise to children; yet on many streets in Mwanza and Tanzania in general, a large number of children find their homes in those streets—one would think streets are parents to these children. And, as each day unfolds, the number of these children keeps increasing.
The children you all see loitering in streets need special care. They have left their homes to streets due to various reasons but all of them have a common target—to live a better life.
Unfortunately, they also end up in trouble and unimaginable problems; they fight, face accidents and finally end up with serious physical injuries and eventually, other health problems may ensue—this also may affect them psychologically.
Tanzania Rural Health Movement (TRHM), an organization that deals with the provision medical services, research and environmental conservation in rural areas, has conducted studies among street children to try and put a perspective on their health problems.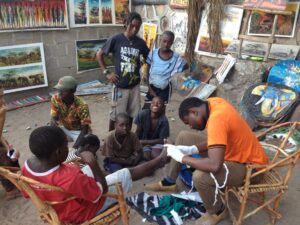 Research findings
Male street children are predominantly affected by injuries, by 98.7 percent.   And, the most common mechanism of injury is road crash (57.8 percent), followed by cuts (20.2 per cent), yet, only 10 per cent of the children with wounds reported to receive Tetanus Toxoid(TT)vaccination.
Recently, we published a case study, trying to examine an isolate of Achromobacter Animicus, a bacterium found to be causing wound infection among children living in the streets of Mwanza.
Read original study: Multidrug-resistant Achromobacter animicus causing wound infection in a street child in Mwanza, Tanzania
This isolate was resistant to antibiotics—trimethoprim-sulfamethaxazole and sensitive to ciprofloxacin and gentamicin.   It was the first case report of Achromobacter species in Africa, fifth case of A.animicus worldwide and first case of wound infection.
At TRHM, volunteers have been passionate and motivated to provide daily wound nursing care for children whose wound care, needs follow up.
The volunteers go beyond wound dressing—trying to show these children that they are not forgotten by the community, by giving them free and friendly assistance, especially the treatment of wounds.
In March 2015, medical students, led by TRHM, launched a Wound Care Project for street children under mentorship and supervision of Dr. Hyasinta Jaka and Dr. Nyambura Moremi.
The Wound Care Project for street children aimed at providing free wound nursing care and treatment to street children dwelling in Mwanza city.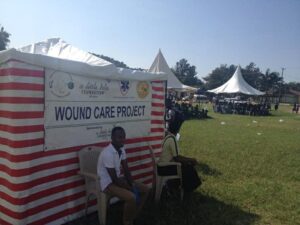 TRHM works under potential support from Bisou Bailey Foundation (California, USA), Bethke Medical Consulting (Lubeck, Germany) and Microbiology and Immunology Department at Catholic University of Health and Allied Sciences-Bugando (Mwanza, Tanzania).
Charles Fidelis, a second year nursing student at Cuhas, and voluntarily wound care project coordinator with support from Josephat Wangwe, a pharmacy student, work by mobilizing a group of volunteers every Saturday for wound care project outreach.
During each outreach TRHM volunteers register and triage street children, do thoroughly physical examination and dress their wounds.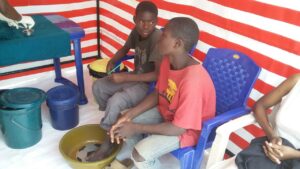 For those children with septic wounds, pus sample is taken for microbiological analysis at CUHAS-Bugando laboratory before antibacterial intervention.
 Challenges and Way Forward
TRHM knows the value of these children since they form part of what is known as tomorrow's generation, but dressing wounds is not enough to prepare them for the better future.
TRHM team developed a vocation training program "Rock City Market" where street youth can acquire free stitching training on cultural bags, theater caps and son on.
This means they can now be recruited in the workshop so that they can be able to look after themselves but also reduce incidence of wounds due to road crashes etc.