WHO-Africa confirms government's request is under process
Data reporting doesn't fuel panic, says Tanzanian expert
Variants spreading in neighbouring countries pose third wave threat
Tanzania is set to receive COVID-19 vaccines after it made a formal request to the COVAX facility, ending its anti-vaccine stance that has lasted for months. This comes as the country warns its citizens against a third wave of COVID-19.
"We are expecting the vaccines to arrive in the country in the next couple of weeks," said Richard Mihigo, the immunization and vaccine development program coordinator at World Health Organization's Regional Office for Africa.
The COVID-19 vaccine deployment plan for Tanzania is under process, confirmed Dr Mihigo during a virtual presentation on Thursday. By this step, Tanzania joins its East African neighbours in the vaccination drive, leaving out Burundi.COVID-19 cases are on the rise in the region.
In Uganda, 1,418 new infections are reported on average each day. The country has only vaccinated 0.9% of its population. In Kenya, with 516 new infections, 1.1% of the population is vaccinated. Rwanda, which has vaccinated 2.3% of its population, is recording 338 cases daily.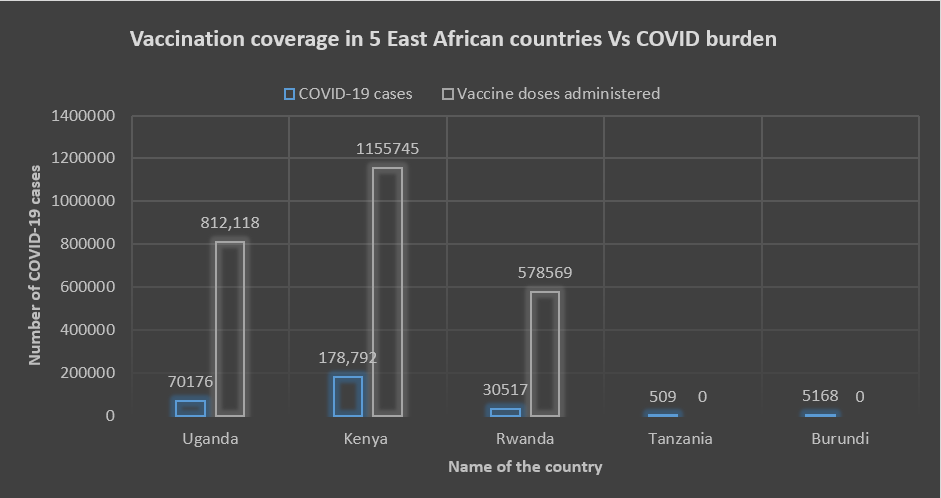 As Tanzania gears up for vaccination, the Director of Preventive Services-(Ministry of Health) Dr. Leonard Subi warns "there are indicators of a third wave," urging citizens to wear face masks, wash hands or sanitize and avoid crowds. However, epidemiological data on the pandemic is still on hold.
For many months during the pandemic, the government of Tanzania has downplayed coronavirus effects, issued mixed messages and denied the existence of COVID-19 in the country. It also hesitated to introduce vaccines during the administration of the late President John Magufuli who died March 17 this year, reportedly of heart attack.
Experts have warned of deeply entrenched public hesitancy against vaccines as well as preventive measures due to many months of pandemic denial. The current administration under President Samia Suluhu Hassan, is stepping up efforts to counter the COVID denial.
"The ministry reminds all citizens not to ignore COVID-19,'' said Dr. Subi at a press briefing in Dar es-Salaam on Saturday (June 19), citing latest surveillance reports by the Ministry of Health which show a looming third wave.
"Due to interactions that our people have with neighbouring countries where cases of COVID-19 are high due to variants, it's important to step up preparedness," he said, without revealing if there are any reported cases of the viral disease in the country.
Tanzania stopped releasing data updates about COVID-19 in May 2020, when 509 cases and 21 deaths had been recorded. The government claimed that data reporting was "instilling fear and fuelling public panic."
But data reporting helps the public make informed health choices and aids proper government planning in a public health emergency, according to Dr. Linda Simon, an Assistant Lecturer from School of Public Health at Muhimbili University of Health and Allied Sciences (MUHAS).
"Truth is, people's senses, including the sense of fear, can be useful. They can protect themselves against the virus because of fear of contracting it," says Dr. Simon, adding: "But the right way to deal with irrational public fear is by issuing positive health messages that encourage people to protect themselves against the virus."
Unofficial reports indicate that the country could start releasing COVID-19 data in July this year as the government seeks to comply with terms set by the International Monetary Fund (IMF).
Last month, Tanzania asked for a $571 million loan to support the country's economic recovery from the COVID-19 pandemic, but it will have to be transparent about its COVID-19 statistics to qualify for the loan.
The WHO-Regional Director for Africa, Dr.Matshidiso Moeti emphasized at a recent briefing that data sharing is key for vaccination plans.
"We're strongly encouraging the country, now that it's going to address the situation through vaccinations to share data with us so that we can play the most effective role in assisting Tanzania," said Moeti.