Uganda's Social Services Parliamentary Commission, led by Ms Cecilia Barbara (MP), visited the Jakaya Kikwete Cardiac Institute (JKCI) in Tanzania on Wednesday 12th July 2017, with the aim of borrowing experience from their neighboring country on how to combat heart disease and tackle a wide range of health challenges.
Since August 2015, Uganda embarked on plans to break ground for a new 200-bed hospital, to be named the Uganda Institute of Cardiothoracic Diseases, to replace the current Uganda Heart Institute (UHI). The new hospital, if completed, is expected to have three operating theatres, cardiac catheterization laboratories, an Intensive Care Unit, and research facilities.
As part of the mission to expand cardiologic services in Uganda, Ms Barbara, alongside a team of other 10 MPs visited Tanzania's JKCI—touted by Tanzanians as East Africa's largest heart institute. It has 103-bed capacity and attends to an average 700 outpatients and 100 inpatients per week. It was officially established in 2015.
During the tour of JKCI, Ms Barbara said,"We in Uganda have had a lot of challenges in health sector, as we are now trying to develop our heart institute, so we just came to find out what is it that Tanzania has achieved in terms of providing quality medical services." She said this during an interview with local media.
She said, "We as commissioners have come to realize that, we have been spending too much money in sending patients to South Africa and India. I can assure you that we will now be sending our patients to Tanzania."
"We are here to learn and experience… there are many people in Uganda, who have heart diseases and what we have seen here can be emulated in our country to save our people," said Barbara as quoted by Tanzania's Daily English paper The Citizen.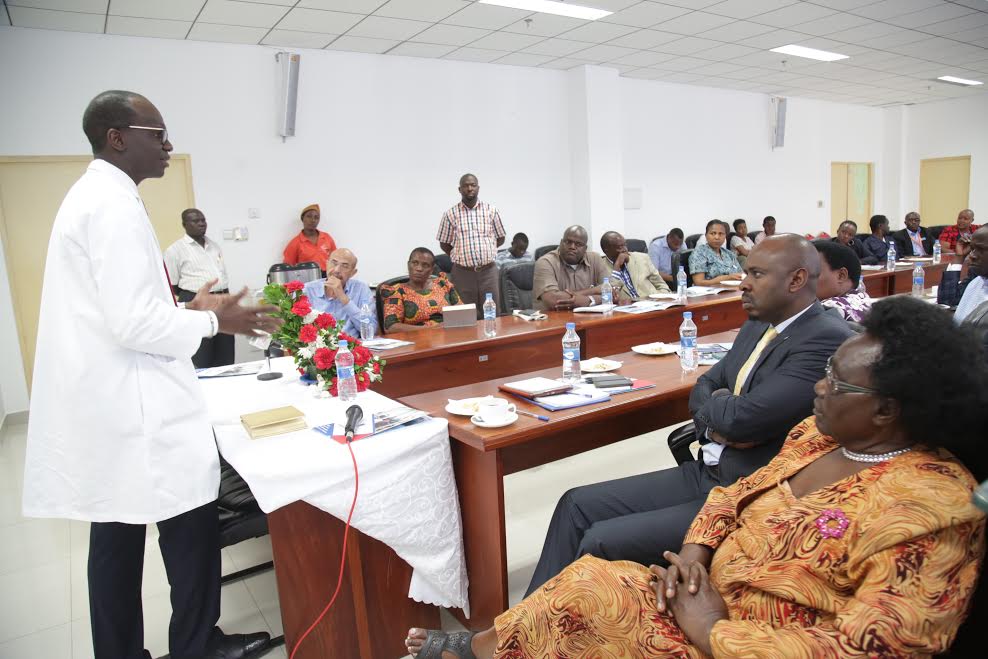 Media reports in Uganda show that people with financial capacity in that country usually fly overseas, mostly to India, to treat heart complications while 478 out of a possible 1,000 such patients who are lucky receive surgery at UHI, according to official statistics.
Last year, a report in Daily Monitor said that Uganda's plan to put up the Uganda Institute of Cardiothoracic Diseases  had been drawn up. "The architectural designs for the proposed hospital…have been drawn and approved," said Dr John Omangino, UHI's Executive Director. He said, according to the report, that if money was available, the construction was planned to take 18 months (this was said in November 2016). It's now July 2017.
During the tour of Tanzania's heart institute, a Principal Research Officer in the Parliament of Uganda, Mr Jonathan Enamu, said, "I have learnt a lot, especially on how to cut the cost of treatment for heart patients and how people can benefit from health insurance."
According to data obtained from JKCI, as of 12th July 2017, the number of Tanzanian patients who were being referred abroad for specialized treatment of heart diseases had dropped by 95.5 per cent—from 159 patients in 2012 to only 4 patients in 2016.
JKCI's Executive Director of JKCI, Professor Mohammed Janabi, said that people from countries such as Comoro, Yemen, Kenya and Uganda have been seeking treatment for various heart diseases at the institute.
JKCI's website shows the institute has 203 employees of which 300 are doctors while 93 are trained nurses. It's organized into six eight directorates which are Cardiology services, Surgical Services, Nursing Services, Clinical Support Services and Corporate Services. These directorates are sub-divided into 16 departments.