Elsewhere around the world, scientists are deciphering new ways of identifying the genes that are involved in human disease. This has also helped in developing better strategies for detecting, treating and preventing diseases.
Through the use of what is known as  Genome-wide Association Studies (GWAS), the scientists are trying to associate people's genetic variations with particular diseases.
However, much of this discovery is centered on individuals of European ancestry. People from Africa, including Tanzania are less represented.
During the world's largest collaborative biological project (Human Genome Project) which was initiated to identify and assemble all building blocks that make up the human DNA, Africa contributed only 2% in terms of genomic data.  The project ended in April 2003.
The continent's less contribution in such databases has direct consequences in limiting our understanding on how diseases develop in people with African descent.
Challenges such as inadequate diagnosis of diseases, inability to develop drugs suited for African populations and how best to treat diseases, are cited here.
Furthermore, the accurate prevalence and epidemiology of genetic conditions are either unknown or flawed in Africa.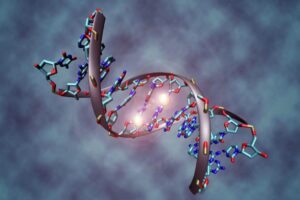 On the other hand, should an individual get a successful and accurate diagnosis, the patient still needs personalized medicine that may run lifelong, depending on the particular mutation a patient may be carrying.
African countries such as Tanzania still lack the knowledge and technology to identify and adapt such methods, yet, they are also severely limited and neither available nor affordable in Tanzania.
The disease burden in Tanzania
Tanzania faces a heavy disease burden for both communicable and non-communicable diseases. While in the last 20 years we have managed to reduce cholera and polio, the prevalence of Malaria and HIV however remain quite high.
The burden has been inflamed due to antimicrobial resistance strains. Heart diseases, cancer, diabetes, chronic respiratory diseases and TB are also on the rise and the numbers are expected to increase in the next decade.
This burden can be significantly reduced but that requires an active approach that should include all stakeholders and public health organizations to strategize and use genomic approach to help identify genetic risk factors.
What Tanzanian scientists are doing
Prominent scientists in the country such as Prof Julie Makani and Dr Siana Nkya are researching Sickle Cell Disease (SCD) and other blood diseases using genomic technologies.
The aim is to reduce the burden of the most prevalent genetic disorder in the country with a prevalence of over 10,000 babies born with SCD in Tanzania every year.
Other scientists at KCMC under the leadership of Prof Ben Hamel are investigating disorders such as Parkinson disease, Prader-Willi syndrome, Freeman-Sheldon syndrome, Camurati-Engelmann disease and Huntington disease to mention a few.
These are however limited to research and have yet to be implemented in a standard care practice in the country.
What should the government do?
Governments, NGOs and health organizations must address this issue with utmost urgency and significantly invest in genomic technologies for the greater benefit of the society and health.
There are several examples of countries embracing genomic technologies for research and diagnostics.
While most countries are from the developed world, such as USA, UK, and Europe, Tanzania needs to draw inspiration from the developing world such as Vietnam, South Africa, India and China.
This can be done step-wise.
a) Tanzania must identify gaps that could significantly benefit from investment in genomic technologies,
b) Partner with local and international stake holder to aside funding for genetic and genomic research,
c) Use funds to train and employ highly skilled professionals as well as develop the required infrastructure,
d) Use the skilled professionals to develop bio-banks, biological material storage facilities as well as ICT infrastructure to locally analyze genomic data,
e) Develop an ethical and legal framework to protect patient privacy and standardize practices in the country.
Subsequently, enroll thousand citizens from whom they will collect and analyze DNA for creating a Tanzanian genome database.
The why and economic prospects
Investing in genomic technologies needs millions of US dollars in funding. All countries that have already invested, have realized that this is a worthwhile investment.
It has helped in generating a concrete bio-economy, use valuable genetic information to improve industrial processes such as production of drugs that are suited to the local population, creating new treatment pipelines as well as employing and empowering local Tanzanian scientists and researchers for the betterment of Tanzanian health.
We all should look forward to evets such as the launching of the Tanzania Society of Human Genetics during the 6th Tanzania Health Summit in Dodoma on November 27 and 28, as researchers look forward   to changing the dynamics of human genetics and health in Tanzania, Africa and globally.