On a sunny afternoon in early December 2015 we got a notification on our mobile phones that a driver — somewhere on Makongoro Road in Mwanza city — got into a road crash and was entrapped in the wreckage.
That incident happened only three days after we had launched a pilot program to provide free pre-hospital care services for road crash victims across Mwanza city.
Read: The life-saving mission of Tanzania's killer taxi bikes-BBC News
We were medical volunteers working under the Tanzania Rural Health Movement (Mwanza, Tanzania) and with assistance from Trek Medics International (New York, USA). Our main goal at that time was to help the victim of the road accident survive.
The information about the accident on Makongoro road came from bystanders at the scene. They contacted us by calling 114 which connected them to our dispatching room at the Fire Station in Mwanza.
Upon being informed about the accident, there was no waiting. We picked up our trauma packs and drove off to the scene on our motorbikes. We found fire fighters and traffic police trying to rescue the victim from a truck that had crashed.
We immediately got hold of the injured person and provided first aid before rushing him to Bugando Medical Centre (BMC) for further treatment.
This man was very likely on the verge of losing his life if we didn't intervene immediately. In Tanzania, such deaths are a common occurrence and many of them can be attributed to the lack of pre-hospital care.
A study by Phillip et al2 showed that among 5,672 cases of trauma who were taken to BMC (2010-2012), none of them (0%) had got hospital care before arrival (pre-hospital care); such as the one we had rendered to the man at Makongoro Road.
Most patients arriving at the facility were brought by lay persons such as police, relatives or Good Samaritans.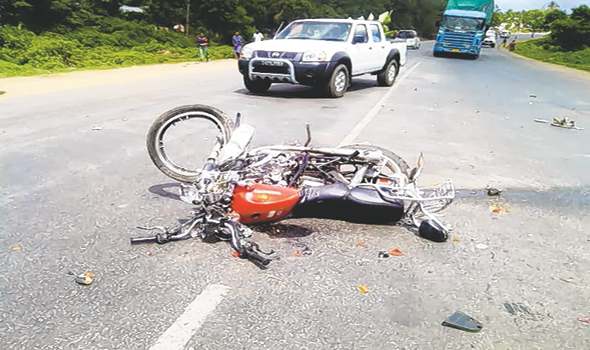 Road accidents continue to cost us dearly, despite the enforcement of laws on speed control. The vulnerable road users such as pedestrians, cyclists, and motorcyclists bear the brunt.
Read: Poor roads in Tanzania and the scourge that has refused to go away
According to The World Health Organization (WHO) road traffic accidents are predicted to become the seventh leading cause of death by 2030 if no sustainable action is taken.1
Additionally, road traffic injuries are the main cause of death to the national workforce aged from 15 to 29 years. This has a huge impact on the economy of countries such as Tanzania, which are striving to attain a middle economy by 2025 through industrialization.
Yet, in most developing countries, there is no a well-coordinated Emergency Medicine System (EMS) which can provide quick/ immediate care to minimize death through simple measures such as bleeding control and airway management.
Read: How to call an ambulance in Tanzania
For the sake of improving the care of accident victims before arriving at the health facility, the lay persons, police, and Good Samaritans can be taught to become first responders.
They can provide basic care, such as bleeding and hypothermia control, and keep their airway open and breathing unimpeded.
If these basic, life-saving skills are done well, and provided quickly, lives can be saved and accident victims can get back on their feet to contribute to the country's economy. These measures can reduce number of people who will suffer long-term disabilities due to lack of this care.
The man we saved in Mwanza City left lessons for us. His incident was a driving force for our local partners, the Fire Fighters, Police Traffic, and bodaboda riders. All of them were trained to become community first responders in cases of accidents.
They are now integrated in the SMS dispatching software "Beacon". The system relays requests for assistance from the scene of an emergency to trained responders throughout the community by SMS.
This then enables the nearest available emergency care providers to quickly locate, treat, and transport emergency victims to local hospitals.
For the past two years, we have been providing such emergency care through community first responders.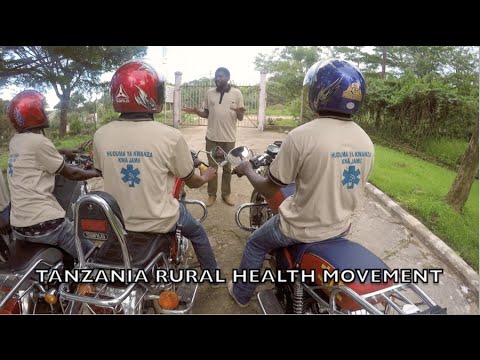 Our data show that the Mwanza Community First Responders have helped in about 500+ incidents and 300+ patients across the city with at least 50% of these incidents related to injuries. The responders have also shown considerable success in getting to the patients quickly, with an average arrival time of 5 minutes and 29 seconds in 2017.
The Mwanza community of responders is growing fast with a total number of 20 active Bodaboda Community First Responders and one three-wheel ambulance donated by The Desk and Chair Foundation.
We are working to scale up the programs in Moshi District, Kilimanjaro Region and Iringa Town; targeting to launch the same program before January 2018.
We are working towards long-term sustainability of medical supplies and responders for bodaboda drivers through involving local/international philanthropies and Government.
Sustainability of the program is key, just as it is highlighted in the target of halving the global number of deaths and injuries from Road traffic crashes by 20201. That's embedded in Sustainable Development Goals (SDGs).
Tanzania needs to invest into control of deaths and disabilities caused by road traffic crashes to attain the middle-income status by the year 2025.
The country has already witnessed milestones in development; such as in infrastructure connecting regions of the country, a growing motor taxi business, fast transit buses and much more.
However, this development progress doesn't come alone—it comes with major public health issues to address. The increasing cases of injuries and trauma on roads are one of the important things to deal with.
References:  
Chalya PL, Dass RM, Mchembe MD, Mbelenge N, Ngayomela IH, Chandika AB, et al. Citywide trauma experience in Mwanza, Tanzania: a need for urgent intervention. J Trauma Manag Outcomes. 2013;7(9):1–8.