Life-saving drug, hydroxyurea used for treating sickle cell disease has shown good response in patients at the Muhimbili National Hospital (MNH) in Tanzania, says a study whose evidence could help improve lives of people suffering from the genetic disease.
Researchers who carried out the two-year study are urging the policymakers to include hydroxyurea in the country's healthcare budget frameworks to increase access of the drug to needy patients.
Up to 11,000 children are born with sickle cell disease per year in Tanzania, a report in Lancet journal shows, making the country rank fourth in the world for a high burden of the disease, yet, life-saving medications such as hydroxyurea are still largely inaccessible.
According to results which have been published in the Tanzania Medical Journal (TMJ), treatment with hydroxyurea reduced sickle cell crisis events in adults and children who were diagnosed with the disease and enrolled for the study conducted at MNH from July 2015 to May 2017.
During the study, 42 individuals with sickle cell anaemia were put on hydroxyurea treatment and each followed up for about 6 months to observe if they developed complications such as frequent painful crises, seizures and stroke. Thirty two others (control group) were not put on the drug.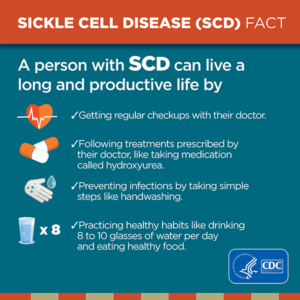 Two thirds of patients who were recruited for the study did not report further complications of the disease from the time they were put on hydroxyurea treatment.
However, the researchers admit that there is a risk of bias because the study involved a few individuals, thus, they suggest that further clinical trials must be carried out to explore the effects of the drug on more patients with sickle cell anaemia.
The lead author of the study, Elisha Osati, a physician specialist from the Department of Internal Medicine at Muhimbili National Hospital (MNH) told MedicoPRESS that studies on hydroxyurea in other countries have shown good results but there was no evidence of such in the Tanzanian population.
"It was important that such a study be carried out for the first time here in Tanzania because we need evidence to inform decisions on how to improve the use of hydroxyurea among patients," says Dr Osati, adding: "There have been studies carried out in the Western world, not in our context."
The co-author of the study, Florence Urio, an Assistant Lecturer at Muhimbili University of Health and Allied Sciences (MUHAS), says the study's findings have set the ground for clinical trials in a larger population in Tanzania.
"It is widely known that patients with sickle cell anaemia tend to have varying responses to hydroxyurea. [Clinical trials] will assist in identifying patients who do not respond to [hydroxyurea] treatment," she says.
Commenting on the study, Heri Tungaraza, an oncologist and Chief Executive Officer of a wellness organisation based in Tanzania AfyaPal, told MedicoPRESS that the study is addressing a critical issue of public health importance. However, he called for more focus on ways of ensuring universal access of hydroxyurea to all sickle cell patients.
"This is an important study. But I think it's more important now to consider initiatives that will help increase access of hydroxyurea through local manufacturing of the drug. If the government can commit its budget on this, the lives of sickle cell patients could be improved significantly, "says Tungaraza.
Full study for reference:
Osati. E, et al: Clinical epidemiology of individuals with Sickle cell anemia using Hydroxyurea at Muhimbili National Hospital, Dar es Salaam, (Tanzania Medical Journal, February 2020).