Regulators from Tanzania, Ethiopia, Ghana and South Africa have participated in World Health Organization's global assessments for the three COVID-19 vaccines which have so far received Emergency Use Listing, says WHO-Africa.
The WHO said in a statement that a Vaccine Regulatory Forum (AVAREF) is currently supporting African countries to ramp up regulatory capacity and oversight on vaccines authorization, inspection of clinical trials and approval.
"To significantly slow down COVID-19 we must avert serious illness, hospitalization and death," said Dr Matshidiso Moeti, WHO Regional Director for Africa.
"But this historic endeavour is not risk-free. African countries have put in place stringent regulations and are monitoring for side effects and any severe adverse events following vaccination. WHO is working closely with countries to manage potential risks," she said.
Data show that more than 13.6 million – including 12 million AstraZeneca – vaccine doses have been administered in Africa.
WHO says the adverse events reports following vaccination involved only mild to moderate side effects and there have been no cases of blood coagulation disorders reported following vaccination.
During a virtual press conference today(April 15), Dr Richard Mihigo, the Vaccine Preventable Disease Programme Coordinator briefed on vaccine rollout in Africa.
Tanzanian politicians must curtail disinformation
During the media briefing, Dr Mihigo said Tanzania can curb disinformation about COVID-19 vaccines if political, traditional and leaders in other social spheres speak up in support of COVID vaccines.
State officials and key scientists in Tanzania have been on record doubting COVID-19 vaccines, prompting fears of a high level of vaccine hesitancy among the public.
Also read: COVID-19 vaccine hesitancy: a threat to public health achievements
"We need to overcome this by raising awareness among the public of the COVID vaccine's benefits and to fight disinformation on vaccines with scientifically based messaging shared on social media platforms,'' said Dr Mihigo.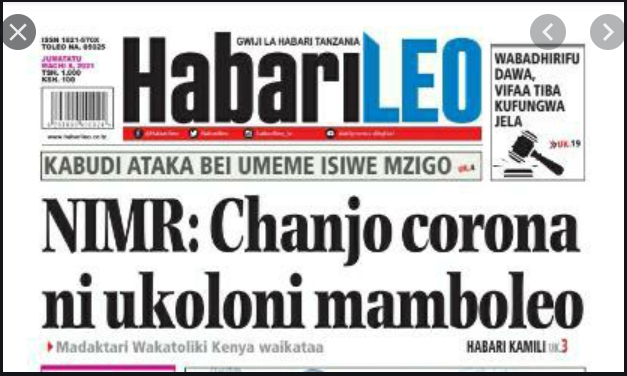 Mihigo's remarks on Tanzania's COVID-19 approach were prompted by a question from a Tanzanian journalist during a virtual media briefing. When responding, he also urged Tanzanian leaders to start leading by example.
"Public figures should also start wearing masks in public so that the public does not get confused on the benefits of wearing masks to prevent COVID-19 infection," he said.
While Tanzania's new President Samia Suluhu Hassan has announced that she would set up a COVID-19 technical committee to advise the government on an evidence-based approach, vaccine scepticism remains rife in the country, like in most other parts of the world.