Dr Stella Mpagama, a physician scientist at the Kibong'oto Infectious Diseases Hospital in Kilimanjaro Region, has bagged the Dr. Maria Kamm Best Female Scientist Award offered by the National Institute for Medical Research (NIMR), joining the long list of women who are inspired by Dr Maria Kamm, an icon in the education sector in Tanzania.
At the age of 45, and with over 70 publications, the awardee Dr Mpagama is currently mentoring many young scholars in the area of infectious diseases, alongside leading a multi-country clinical trial project in Africa which is set to revolutionise the treatment of tuberculosis.
Her decades-old commitment to curbing infectious diseases has stirred the community of scientists who nominated her for the award, presented during the 2nd Annual Joint Scientific Conference in Dar es Salaam, where she has been recognised for "her active role in developing solutions for both programmatic and clinical challenges for infectious diseases.'' During the conference, five other senior scientists and innovators were awarded for their success.
Speaking to MedicoPRESS shortly after receiving the award, Dr Mpagama, born in Iringa Region, said she is being inspired by Dr. Maria Kamm who "has done a lot in empowering women. I am also empowering others through MSc and PhD training."
Maria Kamm, affectionately known as "Mama Kamm", an educator, politician and philanthropist known nationally for her work, and is considered a role model for women in the country.
In following her footsteps, Dr Mpagama is empowering young research scientists through training and mentorship and has contributed to translation and dissemination of research evidence. Her leadership role, however, is continental and international.
She believes the current project she is leading, in Africa; the TB clinical trial capacity development in four African countries: Gabon, Malawi, Mozambique, Tanzania and Uganda, will promote her country in various sectors, apart from the long-term benefits of improving the health of the population.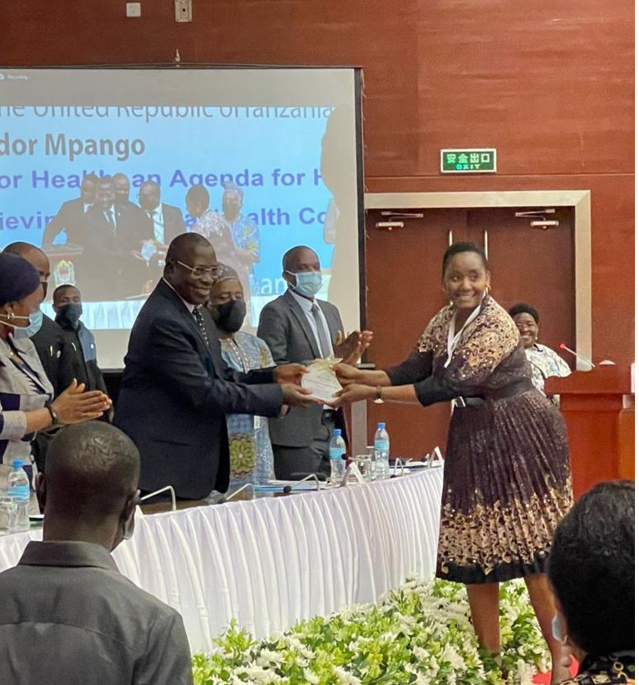 "First of all, these countries are in sub-Saharan Africa and taking lead in this process, we are promoting our country…for example, several young medical doctors [from two different countries] are expected to visit Tanzania at our centre to learn on what we are doing. This will increase number of business tourists in our country and in general visibility of Tanzania."
Tuberculosis, one of the challenging infectious diseases she is tackling, could be tamed through investing in better treatment approaches. She says, "TB is curable but the treatment duration is very long taking 6-18 months and now there is a threat of drug resistance importantly multidrug resistant TB."
A consortium of four African and two European countries under the co-leadership of Dr Mpagama from Tanzania & Derek Sloan from United Kingdom have designed a regimen that optimises the dose of rifampicin and moxifloxacin (OptiRiMoxi) intending to shorten TB treatment duration from 6 months to 4 months.
"Shortening TB treatment duration will improve patient's adherence and minimize the chance of occurrence of drug resistance and also reduce the programmatic costs. Healthcare workers will attend one TB patient less frequently because extra visits in 2 months will be alleviated but also people will get well quickly and go back to work."
Commenting on her achievements, Scott Heysell, Associate Professor of Medicine Infectious Diseases and International Health at the University of Virginia, said her work in nurturing the next generation of scientists will help generate answers for the most pressing questions and problems affecting communities.
"Developing Research Leaders at the Intersection of Malnutrition and Tuberculosis in Tanzania to train Tanzanian post-doctoral scientists to research leadership independence and lead local teams to answer questions of most importance to their communities,'' said Heysell.