As more countries continue reporting the emergence of the new COVID-19 variant across the world, Africa must leverage its expertise in genomic studies to boost the capacity of studying the genetic characteristics of the virus and step up surveillance, says the World Health Organisation (WHO).
"The emergence of new COVID-19 variants is common. However, those with higher speed of transmission or potentially increased pathogenicity are very concerning,'' said Dr Matshidiso Moeti, WHO Regional Director for Africa in a statement.
The new variants have emerged at a time when the Africa Centres for Disease Control and Prevention (Africa-CDC) reports a rise in COVID-19 cases in 47 African countries.
What's genome sequencing?
The rise in COVID-19 cases amid the emergence of the new variant strain, has prompted the need for genome sequencing studies as part of strengthening efforts to curb the pandemic.
In genome sequencing, scientists have to analyze the sample of DNA to group the viruses.
Grouping viruses from different countries into genetic lineages helps to show the linkage or importation of viruses between countries, says the WHO.
But by December last year, scientists in Africa had analyzed 4,948 genome sequences of the virus, which is only 2 % of the 295 101 sequences done across the world, data from WHO show.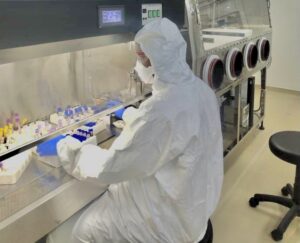 South Africa detected a new SARS-CoV-2 variant, which appears to transmit more easily and has been linked to a surge of COVID-19 infections in the country.
How serious is the new strain in Africa?
Scientists are studying the new 501Y.V2 variant to determine if it is more infectious or has the potential to cause more severe illness.
In South Africa, researchers have been able to carry out 4948 genome sequences of the virus and identified 35 SARS-CoV-2 lineages. In Nigeria 18 of the linages have been identified.
According to Dr Moeti, crucial investigations are underway to comprehensively understand the behaviour of the new mutant virus and steer response.
In carrying out the genetic studies of the SARS-CoV-2, African countries have been urged to leverage the network of 12 laboratories on the continent launched over three months by WHO and Africa-CDC.
But Dr Moeti says, "While surveillance and detection of COVID-19 are critical components of the response to the pandemic, public health measures such as hand-washing, physical distancing and wearing of masks also remain key to limiting infection.