Measures to improve health workers' behavior and supply of protective gears are urgently needed at health facilities in Tanzania to curb the spread of novel coronavirus, says a study which warns health systems against becoming breeding grounds of infectious diseases.
Researchers who carried out the study in 18 regions of the country say they found health workers who rarely washed their hands or disinfected their medical equipment, when faced with risk of infections. The study targeted faith-based and private for-profit facilities.
"This is not to put the blame on health workers – often they are trying to do the best they can in difficult circumstances, perhaps without the necessary supplies and facilities,'' says the lead author, Timothy Powell-Jackson, an associate professor in Health Economics at the London School of Hygiene and Tropical Medicine(LSHTM).
Powell-Jackson tells MedicoPRESS that the findings highlight the urgent need for policy makers to address very basic compliances in infection control and prevention at health facilities in Tanzania.
"We think the findings should [also] act as a warning bell on preparedness of COVID-19 in Tanzania and other African countries with similar contexts and circumstances,'' he says.
During the study, a group of trained fieldworkers were sent to 220 health facilities across Tanzania to assess how the health workers were handling patients in outpatient consultation rooms, laboratories and dressing rooms.
The fieldworkers assessed handwashing behavior, wearing gloves, disinfecting equipment and dealing with waste; among 734 health workers: medical doctors, assistant medical officers or clinical officers, nurses or midwives, clinical assistants and laboratory technicians.
World Health Organization (WHO)'s urgent interim guidance on water, sanitation, hygiene and waste management for COVID-19, stresses the importance of such practices in health-care settings.
But according to the study, published in the Lancet-Global Health, on May 6 (2020), health workers mainly showed poor compliance  in hand hygiene, which WHO has cited as crucial for COVID-19 containment, and for which overall compliance was only 6·9%.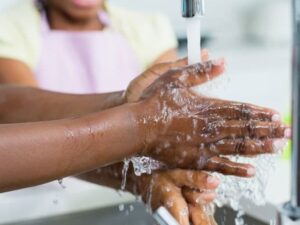 Nurses and midwives were more likely to comply with hand hygiene compared to medical assistants and clinical officers, whereas compliance among lab technicians and assistants was much lower, the study says.
Although compliance with glove use was as high as 74·8%, the study shows there was little understanding that contamination of hands could take place despite the use of gloves.
Health workers had extremely low compliance in disinfecting items widely used for patients with symptoms typical of COVID-19.  "Only 13% of thermometers and less than 1% of stethoscopes […] were disinfected between patients," says the study carried out between Feb 7 and April 5, 2018.
Powell-Jackson explains that although the data was collected in 2018, before the pandemic, there are important implications for the current pandemic.
"One might expect that infection prevention practices will improve compared with these findings [since then] as awareness of COVID-19 grows among health workers and communication campaigns are launched."
However, he warns that it is also possible that compliance will worsen as facilities see more patients, leading to greater pressure on health worker time and supplies needed for the prevention and control of infection.
He suggests, "Either way, health workers practices will need to improve dramatically if the health system in Tanzania is going to contain rather than fuel the transmission of COVID-19."
The researchers say they recognise data used was originally meant for a different purpose and that's why they did not measure certain supplies or behaviours crucial for the control of COVID-19, such as the wearing of personal protective equipment (PPE).
In a commentary, Sanam Roder-DeWan, a Health Specialist at UNICEF- Tanzania says the findings would be deeply concerning under usual circumstances.
"In the setting of COVID-19, they are cause for serious alarm," she says, advising that at the moment, health providers delivering essential but routine health services will have to rely on the basics like frequent handwashing as PPE will likely be limited in sub-Saharan Africa, as it is elsewhere in the world and reserved for wards caring for patients with COVID-19.
Albert Magohe, an epidemiologist at DarDar Health Study in Tanzania says the paper calls for a similar assessment in health facilities at inpatient and critical care areas such as operating rooms, laboratories and more importantly, the designated areas for hospital wastes management.
"COVID-19 may be a blessing in disguise, we hope it has changed healthcare workers' practices towards IPC. A follow-up study during the time of COVID-19 and thereafter is important to show the anticipated impact and invest in sustainability of initiatives taken,'' suggests Magohe.
Reference:
Timothy Powell-Jackson, et al: Infection prevention and control compliance in Tanzanian outpatient facilities: a cross-sectional study with implications for the control of COVID-19, Lancet-Global Health, May 6, 2020.