There is need for increased awareness on proper handling of safe drinking water among Mwanza city residents, a new study published in the Tanzania Journal of Health Research has suggested.
World Health Organization (WHO) says 88 percent of diarrheal diseases are attributed to drinking unsafe water, lack of adequate sanitation and poor hygiene
Researchers found that people living in households located in squatter settlements of Mwanza city, often drink water from containers with no cover and spigot; triggering health concerns.
Findings show that majority of the households used clay pots to store drinking water and all contaminated water samples in the current study were stored in clay pots.
"Most of the households had one common cup that was used by each family member to draw water from the clay pots,'' said the study, done with support from Tanzania's Water Quality Laboratory of the Ministry of Water and Irrigation.
"There is a significant level of deterioration of water quality from the source to the drinking cup,'' says the study published July 2018, titled: High rate of drinking water contamination due to poor storage in squatter settlements in Mwanza, Tanzania.
"Efforts to ensure quality storage methods for drinking water should be addressed at household level,'' the study recommended.
During the study, 207 households were surveyed to determine the microbiological quality of water.
The study was carried out by public health specialists, parasitologists and microbiologists from the Catholic University of Health and Allied Sciences (CUHAS) in collaboration with those from the University of Calgary, Calgary Canada.
No interventions so far
But since it was carried out, between June and September 2014 in Kirumba, Igogo and Mbugani, there has been no reported interventions in the study area, the researchers said.
Martha Mushi, a microbiologist at CUHAS and the lead author of the study told Medico PRESS that the contamination is a result of people's practices and therefore any possible interventions should target the users themselves.
"From our knowledge, there is no any interventions [that have been put in place] regarding behavioral changes in the study area so far,'' she said during an interview with Medico PRESS.
But she revealed that CUHAS was planning to include the training of communities in handling of drinking water as part of the training activities for medical students at the university.
She added, "…public health authorities and the community could help in disseminating knowledge on how to handle drinking water."
According to standards by WHO and Tanzania's drinking water guidelines, drinking water should not contain any total or faecal bacteria in each 100 ml of water.
Study used bacteria as indicators
Bacteria commonly found in human faeces; if found in surface water, is a common indicator of faecal contamination.
During the study, researchers said, 15 samples collected from taps used by residents as water sources, were found to be free of the bacteria.
But to a greater extent, 109 (52.66 per cent) of drinking water samples from 207 households were found to be contaminated with bacteria known as E. coli.
Tap water coverage is high
The study found that the use of tap as a source of drinking water was high among all households in the squatters that were surveyed, signifying the high coverage of tap water in the city.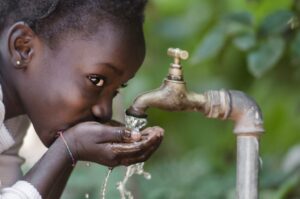 Researchers said the high coverage of pipe water in Mwanza, might have been driven by Tanzania National Policy and the global development agenda which promotes the sustainability of improved water sources.
But a senior lecturer on infectious diseases and immunology at CUHAS, Dr Mariam Mirambo, said that since the study was done in one localized are, it wasn't possible to conclude that the policy has worked in Mwanza and not in other places.
"…we recommend further studies in different sources across the city as well as other regions in order to have a solid conclusion about the matter," said Dr Mirambo.
Previous studies have indicated that in Mwanza city, about 78 percent of the people receive piped water from the Mwanza Urban Water Supply and Sewerage Authority.
The rest of the residents, however, rely on other sources, such as deep wells, shallow wells and directly from the Lake Victoria.