Unacceptable levels of common antibiotics detected in 90% of chicken samples at slaughter slabs
Preventing infections and emphasizing vaccination is way out: MUHAS professor says
Government urged to tighten controls on antibiotics access to curb resistance
Researchers in Tanzania have called for a ban on the widespread use of antibiotics in chicken feeds as "growth promoters" after a study carried out in Dar es Salaam detected a higher than the legally permitted amount of tetracycline antibiotics in chicken liver samples.
Poultry and dairy farmers usually purchase antibiotics from agricultural shops to treat their animals or use the substances to boost growth of their animal husbandry, a practice that researchers say fuels antibiotics resistance and poses health risks to humans.
Irrational use of antibiotics is increasingly raising concerns globally, with the World Health Organisation warning that common diseases, such as cholera and tuberculosis, are becoming difficult to treat with antibiotics because the medicines have become ineffective.
When researching on the health problem in Tanzania, a team of scientists from Muhimbili University of Health and Allied Sciences (MUHAS) and the Tanzania Bureau of Standards collected and tested 84 samples of liver from the chicken sold at some of the city's major slaughter slabs in Shekilango and Manzese.
"We wanted to find out if the amount of antibiotics in broiler chicken were within the legally permitted limits,'' said the lead author of the study Mecky Matee, a professor of microbiology from Muhimbili University of Health and Allied Sciences (MUHAS).
Antibiotics known as tetracycline were found in all samples while those known as sulphonamide were found in 21.4% of the samples, according to results of the study published by the Multidisciplinary Digital Publishing Institute on September 8, 2022.
Over 90% of the samples contained tetracycline "beyond the acceptable daily intake", however, sulphonamides were found to be in amounts that can be legally tolerated.
The study, however, focused on the two antibiotics which are not the only ones used in poultry farming. This therefore doesn't give the real estimate of the health and environmental risks in poultry meat sold in Dar es Salaam.
But the levels of antibiotics found in chicken, the study said, "poses a health risk to consumers, and may lead to [resistance of disease-causing germs to these antibiotics] which may spread to humans and animals via the environment."
Professor Matee told MedicoPRESS that the use of antibiotics, especially among poultry farmers is now widespread. "There is an urgent need to ban use of these medicines and adopt alternative ways," he said, urging government authorities to tighten controls.
"Vendors sell these antibiotics in informal markets and on the roadsides without any restrictions imposed,'' explained Matee, raising an alarm over the growing risk of antimicrobial resistance in Tanzania and across the world, associated with overuse of antibiotics.
"We need to start raising awareness among farmers on the health implications of using these antibiotics. We should tell them that instead of using the antibiotics to treat the animals, the focus should be on prevention of infections and vaccination,'' urged Matee.
He said farmers can also be educated on how to observe the withdrawal period—the amount of time taken for the drug to "clear" from the animal's system. Most farmers do not follow such rules for fear that their economic livelihoods would be affected.
"We, thus, call upon the government of Tanzania through its regulatory agencies to enforce the national regulatory framework for antimicrobial use (AMU) in animal food production," the research team further recommended.
"Fortunately, Tanzania has policies and guidelines that address the use of antimicrobials in animal food and agricultural systems using a 'one health' approach. However, these policies and regulations are poorly enforced due to weak systems, particularly in animal food production."
"Furthermore, the use of antimicrobials as growth promoters should be banned and infection prevention and control measures such as biosecurity and vaccinations should be highly advocated"
However, banning the use of antibiotics as growth promoters in the livestock sector has been highly debated for decades around the world, with some scientists in European countries saying the "decision has to be carefully weighed."
But in 2017, the US Food and Drug Administration (FDA) introduced new rules requiring farmers to get prescriptions for all antibiotics, and banning the use of such drugs to fatten animals.
"Messages aimed at campaigning against antibiotic resistance in Tanzania have left out livestock keepers,'' remarked two years ago Professor Japhet Killewo, a renowned epidemiologist from MUHAS, being among Tanzanian scientists who have been vocal on the threat of antimicrobial resistance in the country.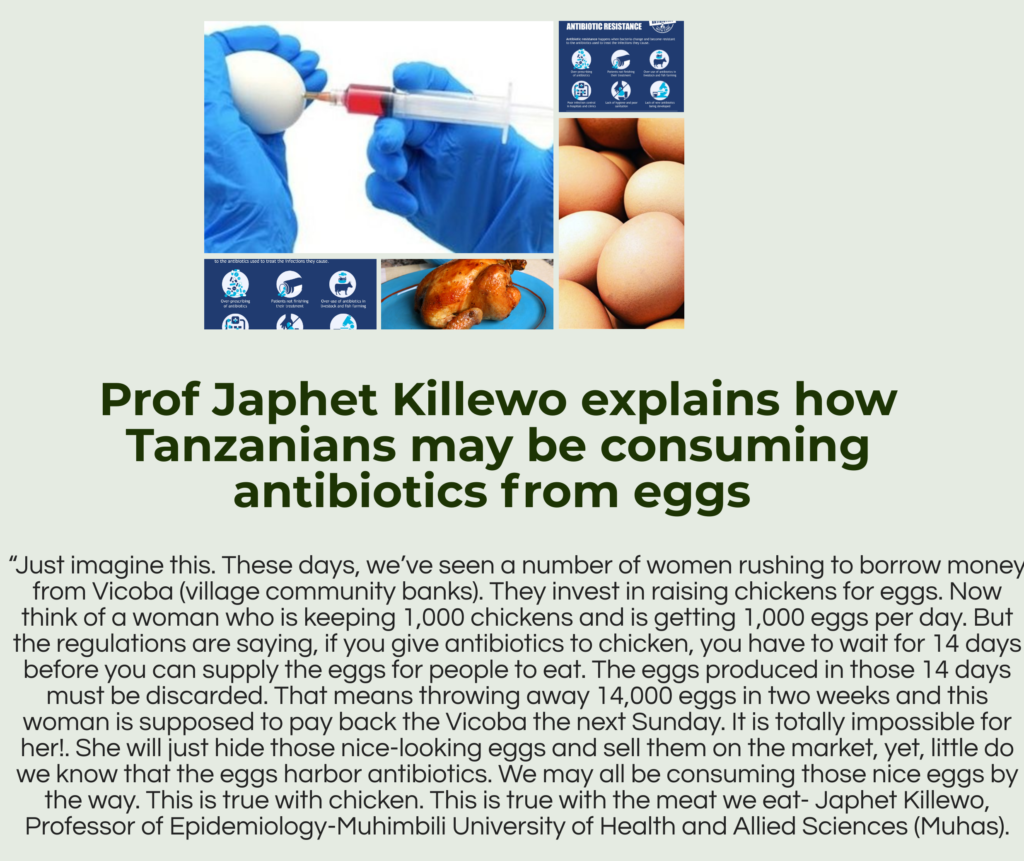 Killewo, the focal person for One Health Central and Eastern Africa (OHCEA) made the remarks when he was unveiling a book that highlighted what it will take for Tanzania to curb the natural and man-made disasters, epidemics and pandemics.
Further reference:
Winstone J. Ulomiand others:Determination of Sulphonamides and Tetracycline Residues in Liver Tissues of Broiler Chicken Sold in Kinondoni and Ilala Municipalities, Dar es Salaam, Tanzania, Multidisciplinary Digital Publishing Institute, September 8, 2022.